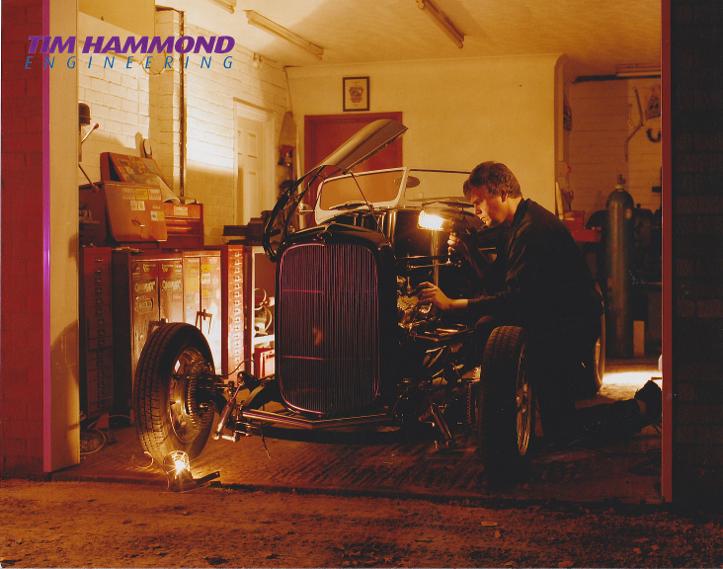 Tim qualified as an engineer in the early 1970's and his fascination for anything mechanical has continued throughout his life. His very first street rod was a 1955 Ford Popular called "Mistreated", followed some years later by a 1937 Oldsmobile Sedan, which was a complete contrast and innovative for its time (check out the gallery). Its debut was in 1995 when it won many awards, and it is still on the road today, turning heads. Tim says no point re-vamping it, as he now feels he could do better!
In 1987 Tim met Paul Gibbs from Wisbech Engineering and was asked if he would produce a few bits for Paul, this soon turned into 5 days a week and together they built many show winning cars. The work Tim was doing privately was beginning to grow and it became apparent that travelling for 2 hours each day was not practical. Tim then switched to a small workshop and continues to work alone to maintain quality.
He has for the past 30years remained constantly busy and enjoys having the opportunity to create something by hand, "one-off, unique pieces of art" (as somebody described them). He pays meticulous attention to detail, but always states that safety will never be compromised on one of the vehicles he has built. He has also been the proud builder of Best In Britain no less than 9 times.
He shares a passion for motor racing, whether it be on 2 or 4 wheels and spent 2 years supporting Scott Racing Services with fabrication and the running of an ASCAR at Rockingham, CanAm, Sports 2000 and TGP.
He has no plans to retire as yet, and is still enjoying the challenges faced with new projects - 2017 saw him reveal the 1932 Roadster which he and his daughter built .