Tim has built many cars during his career and the photos below are just a snapshot of the kind of work he has completed.
...Professional photos are copyrighted and shown by kind permission of Mike Key... Copying or downloading any images from this site is strictly forbidden.
Diane Hammond's 1932 Roadster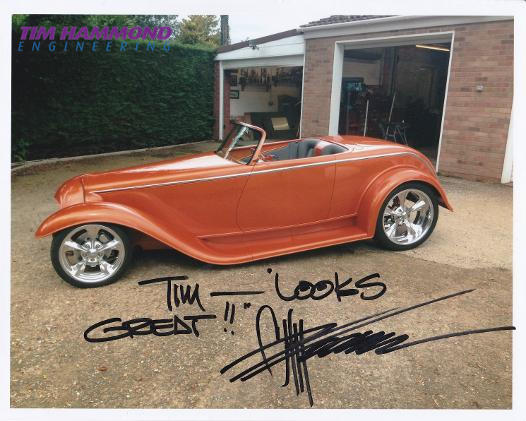 Tim Hammond's 1937 Oldsmobile
Found in a vicarage back in 1984 the project took 9 years in total to build (it spent a year in storage whilst Tim built the garage to house the car). Chopped and channeled over the chassis with 100's of hand made billet pieces.
John Unsworth's 1937 Ford Pick Up
Tim put the vehicle all together, including wiring and finishing the car. Tim created the cantilever bonnet, exhaust, brake and fuel lines, stainless tank and fitted air ride.
Terry Griffin's 1932 TAB
A total unique one-off creation based around a drawing originally done for the owner. Body was made from aluminium by Bob Ford and Tim. Chassis and car constructed by Tim Hammond Engineering. Tim imported the first Inglese fuel system in the UK, which was extensively modified.
Frank Carroll's 1934 Coupe
Originally only came to the workshop for brake lines, but 3 years later a completed car left. Frank went on to win Best in Britain (twice), Participants Choice at Billing , Knebworth, and National Champion all in 2000. Painted Boyd Red (special thanks to Boyd for giving us his paint formula code).
Liz Anderson's Ford Pop
"Henry" was built to be driven using a GTO engine and gearbox. Chassis and vehicle constructed by Tim Hammond Engineering. A complete turn key (with the exception of the interior and paint), and a surprise handover to Liz was made at the Super Nats.
Steve Fletcher's 1934 Chevy Coupe
Tim and Steve completed numerous body modifications (way too many to list) and modified the chassis. Steve prepared and painted the car. Tim finished the car off and completed all the wiring ready for the road.
Calum Anderson's 1934 Coupe
Chassis and vehicle constructed by Tim Hammond Engineering. Best in Britain winner in 2008. This was a complete turn key vehicle. Way too many modifications to list. Interior by Neil Tadman with sculptured fibre-glass dash and door panel moulds by Tim Hammond.
Dan Donati's 1934 Roadster
One-off hand built aluminium body made by Bob Ford and Tim Hammond, complete with hard top and fenders. Chassis and vehicle constructed by Tim Hammond Engineering. Vehicle has won Best in Britain title in 2009, 2013 and 2014 and many other best in show awards (including National Champion 4 times!) Interior sculptured by Dan and stunning upholstery by Steve Hudson, which included having all the leather specially dyed. Too many one-off parts to list.
Stuart Archibald's 1940 Coupe
Tim modified numerous components on the chassis, body and interior - having decided not to do an off the chassis complete rebuild. Car completely re-painted and interior finished off by Steve Hudson. Vehicle was completely re-wired and air ride system sorted out, Ford 9" fitted with 5 link suspension and air bags. New 200R4 gearbox installed for better fuel economy.
Teri Smith's Mercury
Asked by Teri just to finish off, check the car and get it "roadworthy" - this included sorting the remote entry system, air ride, stainless exhaust, fire up the engine and fabricate a newfuel tank.
Martin Salter's 1935 Plymouth
Tim originally built the chassis whilst still at Wisbech Engineering, with Martin and his friend completing the bodywork and painting of the car. Tim wired, made the stainless exhaust system and finished all those little jobs that seem to take ages as a project reaches its conclusion.
Steve Fletcher's 1946 Woodie
Gorgeous Woodie, constructed by the owner Steve and Tim. Interior done by Gabe in the USA when the car was shipped to States for interior and entered into the National Roadster Show in 2006 where it picked up the title of best street rod woodie and station wagon '46 - 62' and was personally invited to the Fresno Autorama show where it picked up the same award plus the Lee's Vintage Car Shop restoration award. Tim built a complete new chassis, fitted an LS6 with a 6 speed manual, stainless steel top and bottom A arms, 9" rear end on stainless 5 link system, finished off with air ride on all four corners. Tim completely wired and plumbed the car. Tim and Steve worked really close to complete this car - each showing their own talents to the max. If you get the chance, check out the woodwork on this car. Steve and Tim had 2 weeks of intensive 16+ hours a day to put the car together in Tim's workshop so it made it tothe container in time for the US show! Woodie came back to the UK and won Best in Britain.
Bob Vince's 1500 Riley
Fresh out of the Hammond workshop, this lovely Riley has been in Bob's family since new. Completely re-vamped and now sporting a 350ci Chevy and auto box. See the project pictures for the build up.
Stuart Archibald's Chevy Truck
2015 saw the reveal of Stuart's Chevy Truck from Tim Hammond and at its first showing it took Participants Choice at Billing. The truck was completely re-vamped, body re-shaped and fit tightened up - lots of modifications, including the original dashboard removed and a 57 Chevy Impala grafted in, chassis altered, air ride suspension added, lots of fabrication, re-wired, new LS1 engine and gearbox fitted, new paint scheme, and finished off with an amazing interior from Steve Hudson. Check out the project section to see the build up.